CANCELED
Due to the forecast for hazardous air quality conditions this weekend we have decided to cancel the Storytelling Festival which was scheduled for this Saturday, October 14th.
We hope to see you at next year's October 13, 2018 Festival! Your dedication to the the tradition of storytelling is invaluable.
We are holding all of our families and our neighbors in the northern counties who have been impacted by the fires in our thoughts.
In Community,
Berkwood Hedge School
11th ANNUAL BERKWOOD HEDGE SCHOOL STORYTELLING FESTIVAL
Saturday, October 14th 2017, 1:00-5:00 PM
Admission
$10 for Adults and $5 for Children.
Admission is Free for children 5 and under -- Gates open at noon.
Our Storytelling Pre-Festival for preschoolers ages 5 and under will star Jaime Lee Currier and Eric Hart of Your Song My Song and is free to all ages! The performance runs from 11:15-11:45am and gates open at 11am.
Purchasing Tickets
Tickets may also be purchased the day of the event
Questions
MAINSTAGE TELLERS
MICHAEL KATZ
Michael Katz tells stories which weave together both the comic and the profound using his own highly energetic, animated and interactive style of storytelling. Michael's stories include multicultural folktales, myths, original stories and personal narratives.
Michael Katz has been a storyteller since 1984 and has been featured at such illustrious locations as the openings of both the Los Angeles Getty Center and the Disney Concert Hall. MIchael is the host of the radio storytelling program Katz Pajamas heard on NPR station KCBX FM. He is one of the founding members of the national touring theatre company BOXTALES, and was the founding Artistic Director for the Flying Leap Storytelling Festival in Solvang, California.
ETH-NOH-TEC
Eth-Noh-Tec is an award-winning Asian American nonprofit storytelling theater co-founded by Nancy Wang and Robert Kikuchi-Yngojo, longstanding San Francisco artists who have contributed greatly to the Asian American performing arts movement.
Their style is Kinetic storytelling and at once precision choreography, lyrical word-weaving, graceful, playful and poetic. By layering ancient Asian mythologies, folktales and Asian urban legends with Asian American sensibilities, Eth-Noh-Tec has created an exciting new blend of movement-based storytelling.
AWELE
Awele (ah WAY lay) is an award winning and internationally known storyteller/teaching artist, literacy specialist, and recording artist recognized as a "truth teller," an artist for social change, and someone who sparks "aha!" moments. She researches, writes and performs hidden African American history, folklore, and personal tales. She provides opportunities for audiences to grapple with the meaning of their own lives as they make meaning of past lives. She has made it her life's work to tell history through the words of its silenced and oft-forgotten witnesses. Awele uses art to catalyze deep conversations about race, our common humanity, and our vision of a just, humane, multiracial society. Awele teaches through performance and she animates democracy through her art.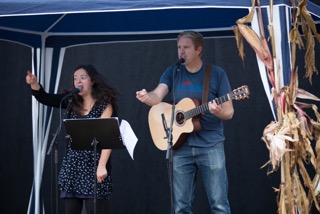 JAIME LEE CURRIER and ERIC HART, Your Song My Song
Your Song My Song plays music for kids, creating wild imaginative adventures through story and song for the whole family. Trek into childhood and dig snow tunnels, build leaf fortresses, or take a swim in the pond with the family dog. With covers of classic kiddo tunes, and unique, funky originals, Jaime Lee Currier and Eric Hart transport you to a world of fun. Take a musical journey with Your Song My Song and sail across the sea, take a swim and dive deep, rush down wild rivers to hidden islands, hike high in the mountains and wander into the pages of your favorite children's stories. Learn more about this dynamic duo at http://www.yoursongmysong.com.
FESTIVAL DETAILS
Food and Drinks
Snacks and drinks will be available for purchase at the festival from a Food Truck
Marketplace
Books and CD's from many of the tellers will be available for purchase at the festival's Marketplace.
Directions
Berkwood Hedge School is located at 1809 Bancroft Way between McKinley Avenue and Grant Street, four blocks from the Downtown Berkeley BART station.
Accessibility
Berkwood Hedge School is wheelchair accessible through the Grant Street gate. Disabled parking available.
Recycling
Berkwood Hedge is a Certified Green School and we encourage everyone to recycle at the Storytelling Festival.
Storytelling FAQ
What will it be like at the festival?
You will have the opportunity to hear three nationally recognized and celebrated tellers - Michael Katz, Eth-Noh-Tec, and Awele perform on our outdoor stage. In between, you can choose to hear many outstanding community tellers, including acclaimed Puppeteer, Daniel Barash and the Shadow Puppet Workshop, Walker Brents III, Yvonne Beils, and many more!
How do I get tickets?
We recommend that you purchase tickets through the website and they will be held for you at will call. You may also purchase tickets at the gate with cash, check, or a credit card. Admission is $10 per adult and $5 per child. Children 5 and under are free.
What ages will enjoy the festival?
This is an event for families, and we are aiming to please and entertain a wide range of children and adults. Parents are asked to be attentive to their children's needs and considerate of tellers and others in the audience.
Will there be food and drinks available?
Yes, there will be food trucks and picnic tables in the Berkwood Hedge School parking lot off of McKinley and Bancroft.
What are the seating arrangements?
We will have mainly chairs and benches. You do not need to bring your own seats, but very low portable chairs are allowed.
Will there be disabled access?
The school site is accessible. To request details or get further information about disability accommodations, please call 883-6990, email us at Debbie@berkwood.org or call the California phone relay at 711. We will have specified disabled parking at the event.
What about signing for the hearing impaired?
We will provide signing by advance request. Please contact us by October 1st. (See above for contact info.)
How do I get to Berkwood Hedge? Is it close to BART?
The school is a block west of Berkeley High School and only a few blocks from the downtown Berkeley BART station. Mapquest has a clear map if you type in our address, 1809 Bancroft Way, Berkeley 94703.
What about bus access?
The #15 bus runs on Martin Luther King, Jr. Way, about a block away.
What about automobile parking?
Parking can be challenging near Berkwood Hedge; many nearby streets have two-hour limits. Carpooling or coming by BART, bus, foot or bicycle is encouraged. If you do drive, be sure to allow plenty of time and be prepared to park a few blocks from the school.
If I bike, is there a secure place to park my bicycle?
Yes, we will provide supervised bike parking.
May I take photos or record the tellers?
No, due to arrangements with the tellers, we ask that no photos or recordings be taken. You will be able to purchase recordings at "The Marketplace" throughout the day.
Are dogs and other pets allowed?
Only service dogs are permitted on the festival grounds.
What if it rains?
We'll carry on. We'll likely have to make some location changes for featured tellers, but we will make it work, so please come rain or shine!
Many thanks and we hope to see you at The Berkwood Hedge School Storytelling Festival on Saturday, October 14th, 2017.